There has been no shortage of national recognition for Indiana this offseason following a string of positive developments throughout the spring and early summer.
With senior star forward Trayce Jackson-Davis withdrawing from the 2022 NBA Draft and announcing his return to IU, the Hoosiers instantly became one of the most talked about teams in the Big Ten.
One prognosticator who is especially high on Indiana's potential is Big Ten Network analyst Andy Katz, who unveiled Wednesday his updated Big Ten Power Rankings which included the Hoosiers as the top team in the conference.
"The Hoosiers return Trayce Jackson-Davis, who withdrew from the NBA Draft — actually during the NBA Combine," Katz said. "He could be Big Ten Player of the Year, First-Team All-American. I'm going with Indiana number one in my power rankings."
But even if Jackson-Davis didn't choose to return, the Hoosiers still would've likely been well-positioned to make a run at the Big Ten title next season.
The returns of sixth-year forward Race Thompson, senior starting point guard Xavier Johnson, fifth-year forward Miller Kopp, and a slew of key role players from last season remain in Bloomington. Alongside them is a four-man incoming freshman class that is ranked No. 10 in 247Sports' team rankings, headlined by five-star guard Jalen Hood-Schifino and five-star forward Malik Reneau.
However, the heightened expectations are sure to put a large target on the Hoosiers' back, especially from Tom Izzo and Michigan State, which Katz ranked as the No. 2 team in his power rankings.
"Yes they lost Max Christie (to the NBA Draft), but Joey Hauser, Malik Hall, the backcourt of Tyson Walker and AJ Hoggard, I think the Spartans start the preseason at number two," Katz said.
We know who will be back for @B1GMBBall. ??

So @TheAndyKatz updated his latest ?????????? ???????????????? following the @NBADraft deadline.

Do you agree? pic.twitter.com/pfsCgkK8F7

—Big Ten Network (@BigTenNetwork) June 8, 2022
Following Indiana and Michigan State closely behind, according to Katz, is Brad Underwood's Fighting Illini.
Although Illinois loses all five starters — assuming forward Jacob Grandison remains in the transfer portal — from last season's Big Ten regular season title team, Underwood hit the transfer portal hard this offseason to pair with a top-10 recruiting class.
"Terrence Shannon (transferred) from Texas Tech, Matthew Mayer returns to college basketball, withdraws from the NBA Draft, transfers to Illinois," Katz said. "Love the pieces the Ilini are putting together."
At the third and fourth spots in Katz' power rankings are Michigan and Rutgers, respectively, both of which are dealing with the departures of two key players from a season ago.
Ron Harper Jr. and Geo Baker won't return to Piscataway as they explore professional endeavors, while standout freshmen Moussa Diabate and Caleb Houstan have both opted to remain in the NBA Draft.
"I dropped Michigan down after losing Moussa Diabate and Caleb Houstan in the NBA Draft," Katz said about the Wolverines. "They do return Hunter Dickinson, but depth and experienced depth will be a bit of an issue."
"Yes, I'm keeping Rutgers in that upper tier now that Caleb McConnell has announced he's returning to Rutgers for another season," Katz said about the Scarlet Knights. "He's the reigning Big Ten Defensive Player of the Year. Cliff Omoruyi I think is going to be a star up front. Paul Mulcahy. I love this Rutgers team."
On the heels of Rutgers, according to Katz, are Purdue and Wisconsin at No. 5 and No. 6, respectively. Much like several other Big Ten teams, the Boilermakers and Badgers will have to find new ways to win without a clear-cut star player returning.
For Purdue, projected NBA lottery pick Jaden Ivey and potential draft pick Trevion Williams are both gone. The same can be said about Wisconsin, who will have to deal with life after star guard Johnny Davis and veteran leader Brad Davison.
"Zach Edey returns, he'll have to play a lot more minutes, though, stay on the floor, stay out of foul trouble, but he could be an All-American," Katz said about the Boilermakers.
"Tyler Wahl, Chucky Hepburn — that's the one-two punch for the Badgers going forward." Katz said about the Badgers.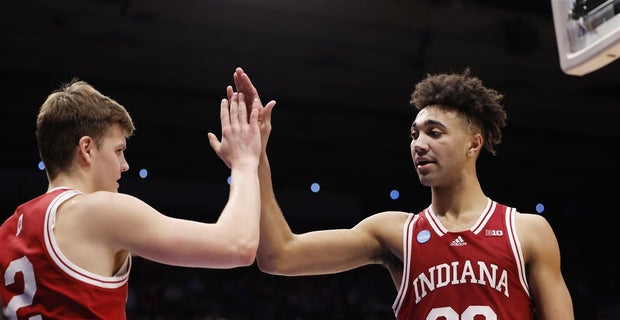 In the middle of the conference pack, according to Katz, are Iowa and Ohio State at No. 7 and No. 8, respectively.
The loss of star Keegan Murray to the NBA won't be easy for the Hawkeyes to overcome, but Katz said he thinks there's enough returning talent for Iowa to remain competitive. Similarly, Ohio State won't have stars EJ Liddell or Malaki Branham coming back, but head coach Chris Holtmann has been active in the transfer portal to find their replacements.
"Yes, (Kris) Murray has returned to college basketball. Can't say he's going to do what Keegan Murray did, but he certainly could have an All-Big Ten season for the Hawkeyes," Katz said about Iowa.
"They lose Malaki Branham, lot of transfers (coming in), Justice Sueing back healthy, but I gotta see how the pieces all fit together," Katz said about Ohio State. "The Buckeyes could certainly finish much higher."
Just below Iowa and Ohio State in Katz' preseason conference rankings are Minnesota and Maryland at No. 9 and No. 10, respectively. While neither squad has any obvious stars, there's still reason for optimism given their returners and additions.
The Golden Gophers will have one of the tougher frontcourts in the conference to defend with North Carolina transfer Dawson Garcia coming to Minneapolis and All-Big Ten forward Jamison Battle returning, plus other role pieces back for another year. The Terrapins might have more obvious growing pains under new head coach Kevin Willard, but Katz said he's optimistic in Willard's coaching ability.
"Dawson Garcia transfers from North Carolina, played his freshman year at Marquette. This is a Minnesota team, with Jamison Battle coming back, I think could move up a hair in the Big Ten," Katz said about the Golden Gophers.
"(Head coach) Kevin Willard is putting together a roster — I got a lot of faith in Willard that he will keep the Terps relevant in his first season in College Park," Katz said about the Terrapins.
Rounding out Katz' Big Ten Power Rankings are Penn State, Northwestern and Nebraska as the lowest-rated teams.
All three programs are in a similar, uncertain position as Micah Shrewsberry, Chris Collins and Fred Hoiberg each try to establish a foundation within their programs. Without a clear go-to scorer for any of the teams, this offseason will be crucial for the future of each.
"Let's see how this roster all fits together," Katz said about the Nittany Lions, "and I still think the Nittany Lions will be trouble and could still move up. But, still young and inexperienced."
"Northwestern and Nebraska, both rosters still not officially set yet, and I think anyone of those schools could certainly move much higher up," Katz said.