mike norvell was regarded as an offensive mastermind when he arrived at Florida State. In his final season at Memphis his offense averaged 6.8 yards per play, 485.1 yards per game, and 71 total touchdowns…all Top 10 nationally in those respective categories. Of those touchdowns and yards per game, the passing game accounted for 33 touchdowns and 298.36 yards per game. Memphis was also Top 10 in the country for pass efficiency at 163.0.
Norvell had a balanced philosophy as a coach with how he approached offenses during his time at Memphis. The Seminoles have been effective in running the ball the past two seasons under Norvell, but they've produced one of the least efficient passing attacks in the country (121.7 passer rating, 106th nationally) in that same span.
Why hasn't the passing game gotten off the ground under Norvell?
When looking at concepts or positions it's easy to get lost in the minutia, so it's easier to see in list form. Noles247 is starting a series on the reasons for FSU's grounded air attack, beginning with this deep dive into why the FSU offensive line has hindered the passing game. Before you continue, be sure to check out Kevin Little's film breakdown of how FSU's passing game is supposed to look. Looking ahead my colleagues at Noles247 are going to be releasing an article discussing the wide receivers and a video looking at the overall issues.
Offensive Line
This is a group that has been harped on for several years now, and for good reason. Everybody can look on the field and see an undermanned group along the offensive line. While this is a group that is improving, as more talent arrives, it still fell short of expectations in the 2021 season. During Mike Norvell's tenure at FSU, the offensive line might be the single biggest reason that the passing game has not been able to get off the ground.
Whether they are working full slide, half slide, or man-to-man pass blocking schemes the group struggles to handle a team with their ears pinned back. They have been lucky to have Jordan Travis at quarterback as you will see later. Couple this with Norvell's desire to work the ball vertically and you have little time with longer developing plays. Ultimately, you end up with a sack, scramble, or throw away and that is not successful offense.
One thing that plagued the OL last season was injured. Starting in game one they were banged up and this trend continued throughout the season. The depth of the position group has been a problem for years. At times last year they had guys playing hurt and only were able to play three or four capable bodies. In 2021, FSU played 21 different offensive line combinations. For a position group built on consistency, that many combinations means your communication is going to be off. When teams are stunting or twisting communication is going to fail and pressure is going to happen.
Another problem that has been well documented is the inability to land a true tackle. mike norvell and co. have forced themselves to play guard bodies at tackle and it has shown against better edge rushers. This is not to say those players aren't capable, but the ceiling is only so high with them at tackle. Length is something teams look for at tackle and FSU has lacked that length for some time. Maurice Smith has been an undersized center and when he faces a legitimate nose tackle, he gives up ground.
Data
Let's look at some data points to paint a clearer picture. It will become clear to all of you just how bad FSU's OL stacks up against the field (all stats are courtesy of TruMedia via Pro Football Focus and rankings are based on 130 teams nationally):
*FSU played 12 games compared to 13 or 14 by others

FSU's offensive line ranked tied for 107th nationally in sacks last year with 36. Of the opponents listed in the first chart they rank next to last only ahead of North Carolina. North Carolina had a historically bad offensive line last year. I will concede that not all sacks are an offensive lines fault but that is a staggering number.

FSU was 95th nationally in pressures allowed at 159 (tied with UNC). Per drop back they gave up a pressure 36.5% of the time. So, 36.5% of the time that a QB dropped back to pass for FSU he was under pressure. Surprisingly, Alabama was near the bottom of this list with 235 pressures allowed and a 36.4% pressure rate.

Oddly enough, or maybe not so, FSU ranked 6th nationally in average time to throw at 3.15 seconds. This would make some sense because of the mobility Jordan Travis possess.
Moving the data forward, lets compare the 2019 Memphis offense to 2021 FSU:


The 2019 Memphis OL gave up 27 sacks over 14 games compared to 36 in 12 games for 2021 FSU. With sack rates of 5.8% compared to 9.6%.

Memphis gave up 122 pressures compared to FSU's 159.

The Memphis OL gave up pressures 25.5% of the time while the FSU OL sits at 36.5%
Lastly, let's take a brief look at three of FSU's top snap takers last year:

Darius Washington held up with only 3.7% pressure allowed but he was beaten 18 times and the QB was not pressured.

Robert Scott accounted for 15 pressures that didn't account for a pressure but had a 5.5% pressure rate.

Dillan Gibbonswho some think may have been FSU's best OL, had a 2.2% pressure allowed rate.

On plays in which FSU was most likely to pass the results are interesting. FSU gave up 13 sacks for a 12% sack rate. Both are below the national average. However, they gave up pressure on 36.8% of snaps which is better than the national average. 2.37 time to pressure allowed is also below the national average and worse than their overall number.

The above chart shows third down plays in which FSU is expected to pass. FSU gave up 10 sacks and the sack % goes way up to 17.9. The pressure allowed rate jumps way up to 44.3% also but the time to pressure also grows. A 3.54 average time to grow is a big number and ranks eighth nationally.
These numbers continue to prove that FSU has an OL problem and one they are going to need to fix if they are going to return to relevancy. While the tackle position is an overall weakness FSU must also get better in the middle.
FSU Scheme
There are a number of pass protection schemes that teams run. FSU runs multiple versions of protection schemes themselves. The two most prominent protectors are man and slide. The following stills are shots of a man scheme from the 2021 season:

A man scheme is just like it sounds, man on man. It makes sense for FSU to run man schemes because it presents alleys for Jordan Travis to take off and run when the defense gets out of their gap. The problem is when you are outmanned then your man scheme can fail.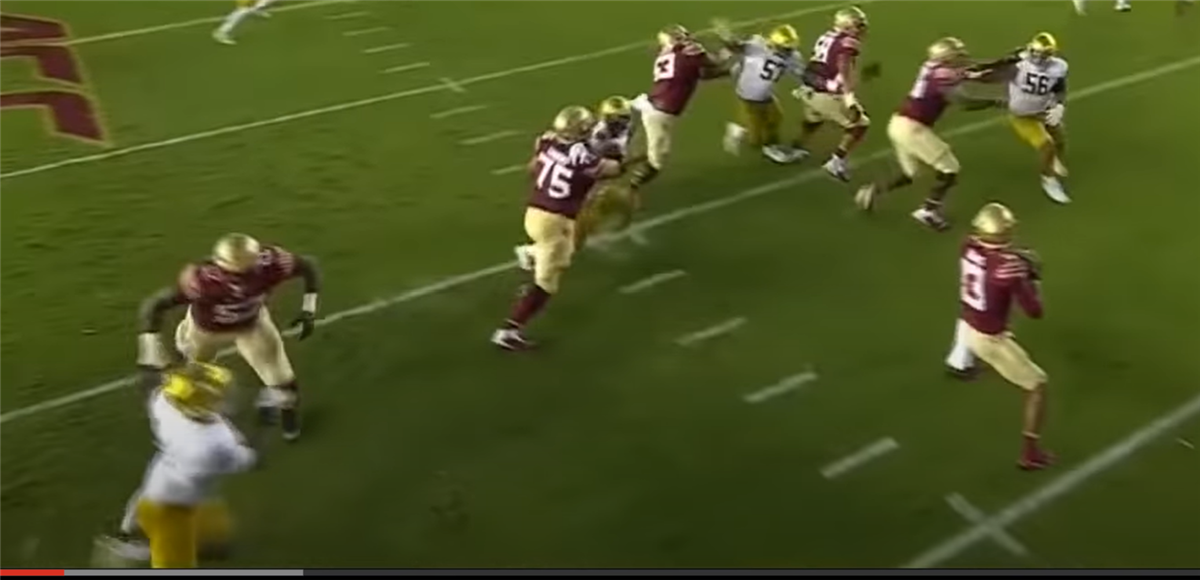 On the play above Robert Scott gets beat on the left side, the game they play inside also pushes the pocket, and FSU ends up giving up a sack. Starting to get the picture?
Zone schemes are a little different, and, exactly what you are thinking. On zone schemes a part or whole of the line will block a gap as opposed to a man. That can be confusing because they end up blocking a man when in reality, they are responsible for a space and not a person. Let's take a look: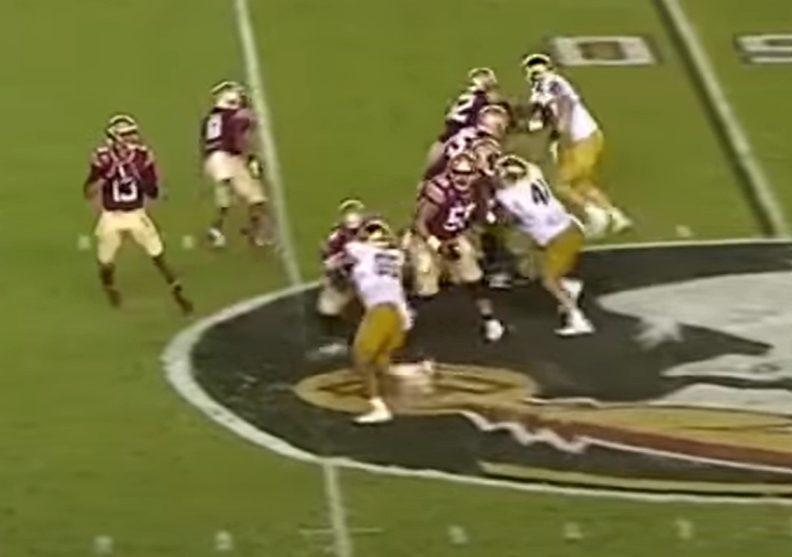 In this still, the center, right guard, and right tackle are all working the gap to their right side while the left guard and left tackle block man. This is common for half the line to block zone and the other half man. You want to use zone schemes when you are expecting blitz because it cleans up assignments for the OL. However, with an athletic QB it negates his greatest strength. In both examples FSU was beat by pressure and gave up a sack on the play.
It becomes clear that FSU is unable to sustain passing success in part because of its offensive line. A bad offensive line is a good way to not have success as an offense.
If FSU is going to get things turned around, they are going to need to fix the front and find offensive line consistency.